Department Head: Dr. Yaakov Mascetti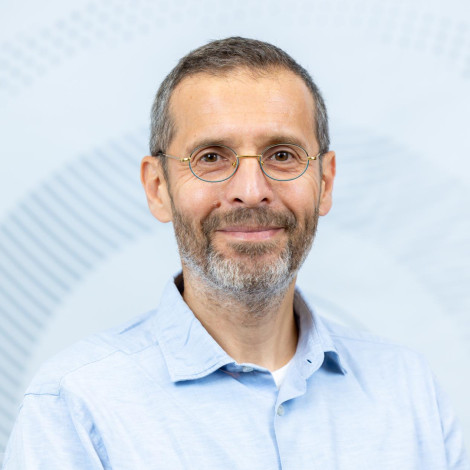 Hello, current and prospective students. My name is Yaakov Mascetti, and I want to thank you for your interest in our Department of Comparative Literature and the programs it offers.    
So often these days, we hear the question: "why should I study humanities?" To me, the question you should ask is "why shouldn't I study humanities?" Literature, History, Philosophy, Classical Studies, and Music are just some of the fields of study offered by the Faculty of Humanities at Bar-Ilan University. Our mission at the Department of Comparative Literature is to open a window to a world of writings and present before you a colorful, spectacular artistic tapestry reflecting man and woman's search for meaning and their struggle with life's tests, big and small.
Literature is an encounter, the moment you meet other ways than your way of thinking, a rendezvous that motivates us to confront and open up to versatility and variety. Delving into the literary world enables you to touch upon the complexity of human reality and approach it with criticism and honed tools of interpretation. In these times of a constantly vibrating mosaic of posts and pictures, tweets and rhetoric, an academic degree in Comparative Literature is practical, if not downright necessary.
So what can you actually do with an academic degree in literature? When we look at the current labor market in its not-so-simple state, deciding to study a field that will enable us to find a decent job is a given. Academic studies are expensive, and if you have to make an investment, it is preferable to invest in a field that will bear the fruit of livelihood and financial stability. So know this: in recent years, high-tech companies, government offices, and private companies in numerous segments have come to value humanities studies as a significant bonus when considering candidates. More and more high-tech CEOs regard the world's current complexity as such that a monotonous set of technological and scientific skills are simply not enough to successfully meet its challenges head-on. 
Want examples? OK, here are some that point out how great the need for critical thinkers in high-tech is, the kind that can manage ideas and multidimensionality: 
Former YouTube CEO, Susan Wojcicki—BA in History and Literature at Harvard University.

Former Slack CEO (slack.com), Stewart Butterfield—BA in Philosophy at University of Victoria and a master's degree in Philosophy and the History of Science at Cambridge University.

Alibaba founder, Jack Ma—English Language and Literature Studies at Hangzhou Normal University. 
But you know what? While the world has indeed become versatile, compound, multicultural, and global, academia became increasingly limited to targeted professional training, narrow and lacking depth. What a painful irony and regrettable paradox! 
So, let's put the cards on the table: in order to find a profession, you need to study and specialize in more than one field. Today's employment market really needs broad-minded educated people capable of sophisticated thinking. Steve Jobs declared that "Technology alone is not enough. It's technology married with the liberal arts, married with the humanities, that yields the results that makes our hearts sing." Others, like Dr. Steve Yi, co-founder and CEO of MediaAlpha, claim that students with a broad education in humanities can cope with the distinctiveness of human subjectivity and the ambivalence that stems from it. Those with only technologic-scientific education tend to over-simplifying complex issues and aspire to fast solutions and clear-cut facts. Compared to them, humanities graduates can tackle complexity; they bring to the table the ability to use varied schools of thought and tackle problems from different angles. As Butterfield was quoted in Forbes Magazine when asked about the skills he obtained during his philosophy studies specifically, and humanities in general: "I learned how to write really clearly. I learned how to follow an argument all the way down […] and when I studied the history of science, I learned about the ways that everyone believes something is true—like the old notion of some kind of ether in the air propagating gravitational forces—until they realized that it wasn't true."
Convinced? We invite you to study in the Department of Comparative Literature! Our scholars will guide you on the path through the wonders of Western esthetics, a historical journey from ancient classical philosophy and literature to the twentieth century. We also have two MA applied majors—the Creative Writing Major and the Dramaturgy and Theater Major—where you can experience and practice poetic writing, acting, and other performing arts. You will also learn to analyze and interpret prose, poetry, plays, and films. We have designed our classrooms to inspire discourse, dialog, and free expression of any opinion, from an interdisciplinary objective that encourages reciprocity between different fields.
About me:
I was born in 1972 in Rome, Italy, studied at the city's international schools, and graduated from an American high school in 1989. In university, I initially studied chemistry (only for the first year!) and then turned to European literature and modern languages—completing my BA with honors in 1995 with a thesis on the sermons of John Donne, a seventeenth-century English poet and clergyman. In 1996, I did Aliya and lived in the religious kibbutz Sde Eliyahu in Beit She'an valley. After some years of challenging agriculture work in all weathers, I left the kibbutz, got married, and return to pursue my doctoral degree in English literature at Bar-Ilan University—reuniting with my long-lost love, John Donne. After completing my dissertation on seventeenth-century alchemical poetry, I proceeded to pursue a post-doctoral fellowship at the University of Pennsylvania before returning to Israel. In 2007, I joined as a professor to the Department of Comparative Literature, which has since become my home away from home.